Posted by Global Teck Staff on Jul 7th 2021
Poly Sync 20 Review
How good is the Poly Sync 20 USB speakerphone with Bluetooth? We review this hands-free device to answers your questions about this shiny new USB speakerphone with an in-depth review, analysis, and special live demonstration!
Poly (formerly Plantronics) has nailed it with the Poly Sync 20. The Poly Sync 20 speakerphone has tons of features including Bluetooth, waterproofing designed for outdoor usage, and has so much juice (20 hours of talk time) in the battery that it will charge your smartphone too.
Among one of our favorite features of this speakerphone is the waterproof capability as well as the rich audio. This has been one of the best-performing speakerphones we've tested.
If you are a business professional looking to upgrade your audio experience this Poly Sync 20 speakerphone will definitely be worth it.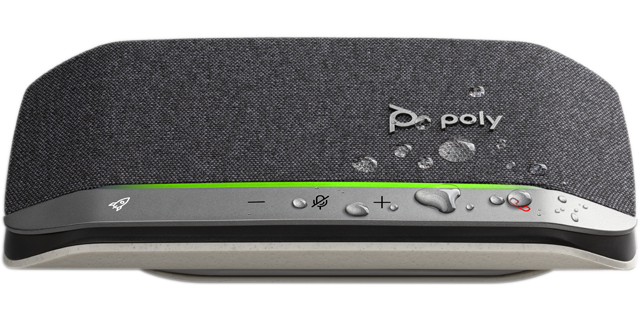 In this review, we put the Poly Sync 20 USB speakerphone through an extreme test with water. This speakerphone keeps on ticking and the audio quality did not diminish after conducting the water test.
Among all the speaker phones we have tested we had found the Poly Sync 20 usb speakerphone to be the best among all business class speaker phones!
The Poly Sync 20 will work with all your business apps on your mobile as well as your computer. It will allow you to connect to a Mac or Windows PC. You can use it in Bluetooth mode or via USB cable. As you will see in this video the audio playback for music is very good for a speakerphone of this size.
The Poly Sync 20 has good bass which is something not normally seen in a product of this size. Specifically for business users, the integration with Microsoft Teams to be a great time saver as well as very useful - the buttons on the Poly Sync 20 can answer/end calls, status notifications, join a Teams meeting, bring Teams to the front window on a PC and several other handy features. This is what makes this speakerphone very different from speakerphones on the market - Its ability to be compatible with the work you need to do as well as take it with you on the road, dust and waterproof for outdoors, and let you stream music or other apps.
Do you have multiple employees using these for working remotely? The companion app called "Poly Lens" will help you customize and configure the Poly Sync 20 Plus speakerphone to see your specific needs.
Join our Youtube Live Podcast on Tuesdays 1pm EAST / 10am West | Where we answer your questions and comments.
Get the Poly Sync 20 Speakerphone
http://bit.ly/poly-sync-20-speakerphone
http://bit.ly/Poly-Sync-20-plus-Speak...
Timestamps:
0:00 Intro
2:29 Trivia Question
3:19 Poly Sync 20 Intro
5:35 Unboxing the Poly Sync 20
13:54 Call Audio Quality while using Poly Sync 20
19:35 Music Audio Quality playing from Poly Sync 20
23:40 Poly Sync 20 Features and Comparison to other Speakerphones
39:30 Live Demo - Poly Sync 20 Splash Waterproof Test
50:15 Closing Remarks
51:30 Trivia Answer
---------------------------------------------------------
#WhatTheTeck#GlobalTeck#SoundBetterSellMore#Poly#Plantronics#Sync20#youtube#podcast